Renovating Classrooms, Allowing Schools to Open After Two Years of Being Closed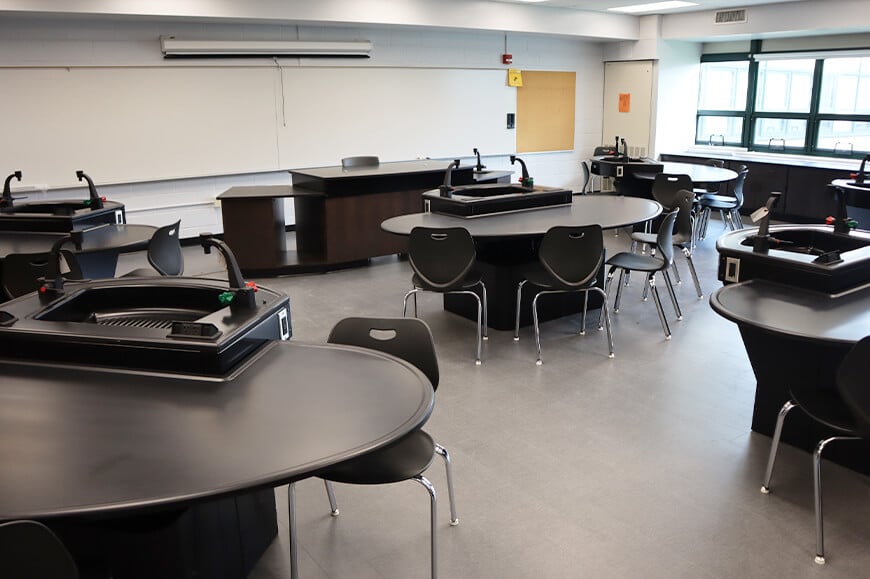 How Our Renovation Project Helped Kids Get Back in the Classroom after Two Years
When COVID hit the United States in March of 2020, children were unable to meet in the classroom, resorting to a change in how they were able to learn. Some stayed home, taking classes online on their computers, while others spent their school time in in public works buildings like libraries or other public schools. Not only was this a sudden change and a scary time to live in, but it hindered children from being able to receive a proper education, including social skills and the other benefits that come along with attending school in-person. However, by the 2021 school year most schools across the country were opening back up, slowly but surely. Children were coming out of isolation and back to a new normal at in-person school – but not in the Cresskill School District in New Jersey.
In September of 2021, Hurricane Ida had just finished walloping Louisiana and other gulf states before making its way up to the northeast as far as New England. Catastrophic flooding wreaked havoc on the state of New Jersey, resulting in their schools being inundated by three feet of water. Destroyed by the flooding, the schools were forced to shut down for another school year, leaving the local children forced to study at home for a second year in a row. Longo Labs was honored to be part of the process for reopening the schools, taking on the classroom renovation project head on.
The Scale of the Flood Damage for this Renovation
This renovation project was of a very large scale, taking place during the summer of 2022. The Cresskill Middle/High School is one large building that combines both the middle school and high school of the district. Unfortunately, this resulted in the majority of the entire building being damaged by flood waters and being deemed unsafe for students. High school and middle school classrooms alike were damaged and needed to be renovated. The town of Cresskill approved a $21 million referendum to allow for the schools to be fully renovated to put students back in the classroom after two years of being away from their teachers and classmates. In short, the scale of the damage cost the taxpayers $21 million, and the students an additional year away from the classroom and away from the invaluable social interactions and everyday delights of in-person schooling.
Why Does Renovation Work Matter?
In our previous blog post, we talked about our renovation of the Bridgewater-Raritan School District. Just like the town of Cresskill, they were also hit by the flooding as a result of Hurricane Ida in 2021 and it left a middle school and two primary schools water-damaged and unsafe for students. Typically, our team works with businesses and schools looking to upgrade their labs or classrooms and turn their visions into a reality. In these two renovation projects, however, it was about more than that. It was about helping kids get back into the classroom, connecting with their friends again, having hands-on learning experiences again in places like art rooms and science rooms, and allowing them to regain their innocence and peace of mind by simply being able to go to school again. For us here at Longo Labs, we are very passionate about science lab renovations, but knowing that our work is impacting children is the most rewarding part of doing these projects.
The Science Lab Products Used in this Renovation
This was a large-scale renovation that included work on six high school science labs, two middle school science labs, art rooms, and even a robotics room. To ensure the district could provide an excellent renovation while still utilizing their provided insurance funds, we were able to help them with the same type of products that each space had prior to the hurricane.
Many of these classrooms received our mobile student workstations, allowing for each classroom to move tables around as needed to ensure the needs of the classroom were being met. They were also equipped with resin countertops that are both dynamic and cost-effective. We used our finest wood casework, which is durable and ideal for school settings. In each room we also installed our sink and faucet fixtures for easy cleanup after any science or art project.
To help make the best use of space in the labs, we installed the best products to fit the needs of each space. Perfect for the chemistry labs, the TEII Work Center is designed for tight spaces and allow for unobstructed traffic lanes for students in every direction. Lastly, we installed Axis Workstations, are adjustable work table that can easily adjust from a seated position to a standing position, making it perfect for the biology labs.
The Role of Purchasing Contracts in School Renovations
Like Bridgewater-Raritan and other New Jersey school districts that Longo has worked with, the Cresskill School District saved themselves both time and money by purchasing through the Educational Services Commission of New Jersey (ESCNJ) Buying Cooperative. Purchasing contracts allow for you to purchase directly from us, giving you the liberty to choose the products used in the renovation. Also, our contract purchasing allows for you to budget and be more involved in the renovation project. By using the ESCNJ Purchasing Contracts, it allowed Longo Labs to work directly with the head of facilities and the superintendent for every aspect of the project, from planning to completion, and get the students back to school for the new school year.
When Disasters Strike, Longo is here to Help You Renovate
Fortunately, the children of the Cresskill School District are finally returning to school and a sense of normal again following the events of a pandemic followed by a hurricane. If your business or school district is ever hit with flooding from hurricanes or damage from any other type of natural disaster and you are in need of renovation, then our team is here to help! Reach out to Longo Labs to renovate your laboratory or school classrooms and to get your students back to school.