Our top priority is to ensure client safety and satisfaction, so you can trust that every Longo project is completed on time, with precision and within budget.
Designing a laboratory is an exact science; when you choose to work with Longo, our experience becomes your advantage. At Longo, we are experts at evaluating the unique needs of our clients and interpreting those needs into functional, efficient, long-term laboratory solutions. We start with an on-site evaluation of your existing space and a discussion of specific needs. We then offer a complimentary design consultation where an expert from our team will make material recommendations and answer any questions you, as our client, may have. As part of our laboratory planning services, Longo also provides free preliminary drawings for every job we do! These drawings are then submitted for review, revised if necessary, and must be approved in order to move forward to the construction phase of your project.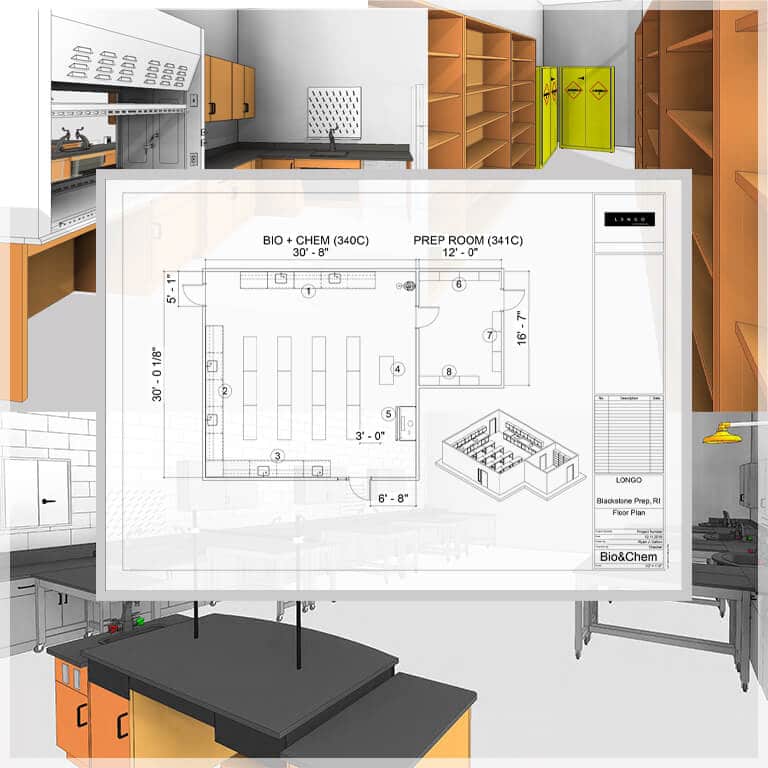 Our Expertise in Modern Laboratory Design
Throughout the design process you can depend on Longo's planning experts for the following:
A safe, code-compliant laboratory plan with a functional design, tailored to your needs.
Assistance in selecting and ordering the most suitable furniture for your specific industry or application.
Use of value engineering to regulate project costs and maximize every dollar you spend.
A modern laboratory design with optimal workspace and storage solutions.
Appropriate recommendations on equipment and materials to outfit your lab.
Programming a Functional Workspace, Tailored to Your Needs
Our project guideline below demonstrates Longo's continuity of control from the beginning phases of design to the turn-key completion of each job.