New Providence School District Culinary Room Renovation Project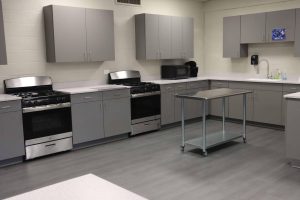 Our Latest Culinary Room Renovation Project
After a few hectic school years due to the impact of the pandemic with remote learning and brand new procedures, classrooms across the country are finally being filled again this school year. As they are returning to classes in-person, many schools are realizing that it is time to renovate and upgrade, and Longo Labs has been able to work on many such renovation projects this year. For our latest renovation project we were pleased to be able to work for the New Providence School District, in New Province, NJ. The district utilized the Educational Services Commission of New Jersey (ESCNJ) Purchasing Contract, which allowed them to purchase directly from us and gave them the liberty to decide which products they wanted to use for their culinary rooms. Our contract purchasing not only allows schools like New Providence to budget, but it also allows them to be more involved in the coordination of the project as a whole. This district wants the best equipment for their students within their budget, and that's exactly what they got from Longo Labs.
What Role Did Longo Labs Play in the Renovation?
For the students of the New Providence School District, one of their holiday presents came early this year! We provided several of their buildings with brand new, custom home economic and culinary rooms. What better time of year to take advantage of brand new culinary rooms? As you can see from the before and after pictures below, these culinary rooms were outdated, unattractive, and underserving the students of the school. As you can see in the after pictures, Longo Labs came up with a very specific plan for the space and executed it to perfection. We take pride in our work, and are proud to have added value to the educational opportunities for these local New Jersey students.
What Products Did We Use?
This project was long overdue, and we utilized some of our best products to upgrade the culinary rooms with a sleek, modern look. The outside of the culinary rooms heavily utilized our Plastic Laminate Casework providing students with a durable and flexible workspace that would make cleaning up after a day in the culinary rooms hassle-free. We also added several of our Work Surfaces, including several balance tables that come with wheels for easy mobility to allow for easily rearranging the classroom when necessary. These work surfaces allow the students to make the most out of the available space, giving them the room they need to bring their culinary visions into a reality.






Need a Culinary Room Renovation? Call Longo!
Whether you have a one-time project or you want to take advantage of our contract purchasing, we are always happy to take on a new challenge. Reach out to us for questions or inquiries about your next culinary room project! Longo Labs is happy to offer you a free laboratory evaluation for your lab needs and answer all of your questions. All students deserve high quality culinary room equipment like the students at West Caldwell Tech now have, and your labs deserve the flexible designs that allow for the equipment to benefit your students. Let's get started!