West Caldwell Tech Campus Lab Renovation Project

Our Latest Lab Renovation Project
The importance of a good education cannot be stressed enough in regard to the long-term success of students. Part of receiving a quality education is having access to high functioning, state-of-the-art resources and facilities. Here at Longo Labs, we take great pride in the fact that many of our laboratory projects take place at schools and are therefore benefitting the students. Like many of our other lab projects, our latest took place at the Tech Campus of the West Caldwell School of Technology, which is part of the Essex County Vocational Technical School District in West Caldwell, NJ. This particular building at their campus had become outdated and wasn't serving the students to its full capacity, so the school district decided that it was time to renovate the building for their Career and Technical Education (CTE) programs for the benefit of the 550 students who attend the school.
What Role Did Longo Labs Play in the Renovation? 
This latest renovation project joins a long list of projects that we have worked on for the vocational school districts. This specific project consisted of the addition and expansion of several CTE spaces for the students, which includes the agricultural science labs that we worked on. Through the use of an ESCNJ contract, the district was able to purchase equipment and materials directly from Longo. That contract made it possible to save the school both time and money by providing an efficient and coordinated plan of completion. We had the pleasure of working with DiCara Rubino Architects on this renovation, who were the architectural firm for the project. Take a look at their role in the project.
What Lab Products did We Use?
As mentioned above, our role in this project was the agricultural science labs. In these lab spaces, we implemented classic maple wood cabinets.  We offer maple wood in a variety of stain finishes and in this case the school selected a "clear" stain application to provide a modern design aesthetic.  Matching the maple casework were wood student lab tables with chemical resistance laboratory tops.  The tables were fitted with casters to allow for movement around the space.  The tables were coupled with our TEII Student Laboratory Centers,  which are uniquely designed without sharp edges to assure student safety and to offer fewer obstructions in every direction.  The TEII supplied came without a storage option to allow greater space for the students if they decided to move the mobile tables near the sink trough sink.  Lastly these science spaces included an airfoil fume hood to allow students to safely conduct experiments that required the capture, containment and exhaust of potentially harmful odors/vapors.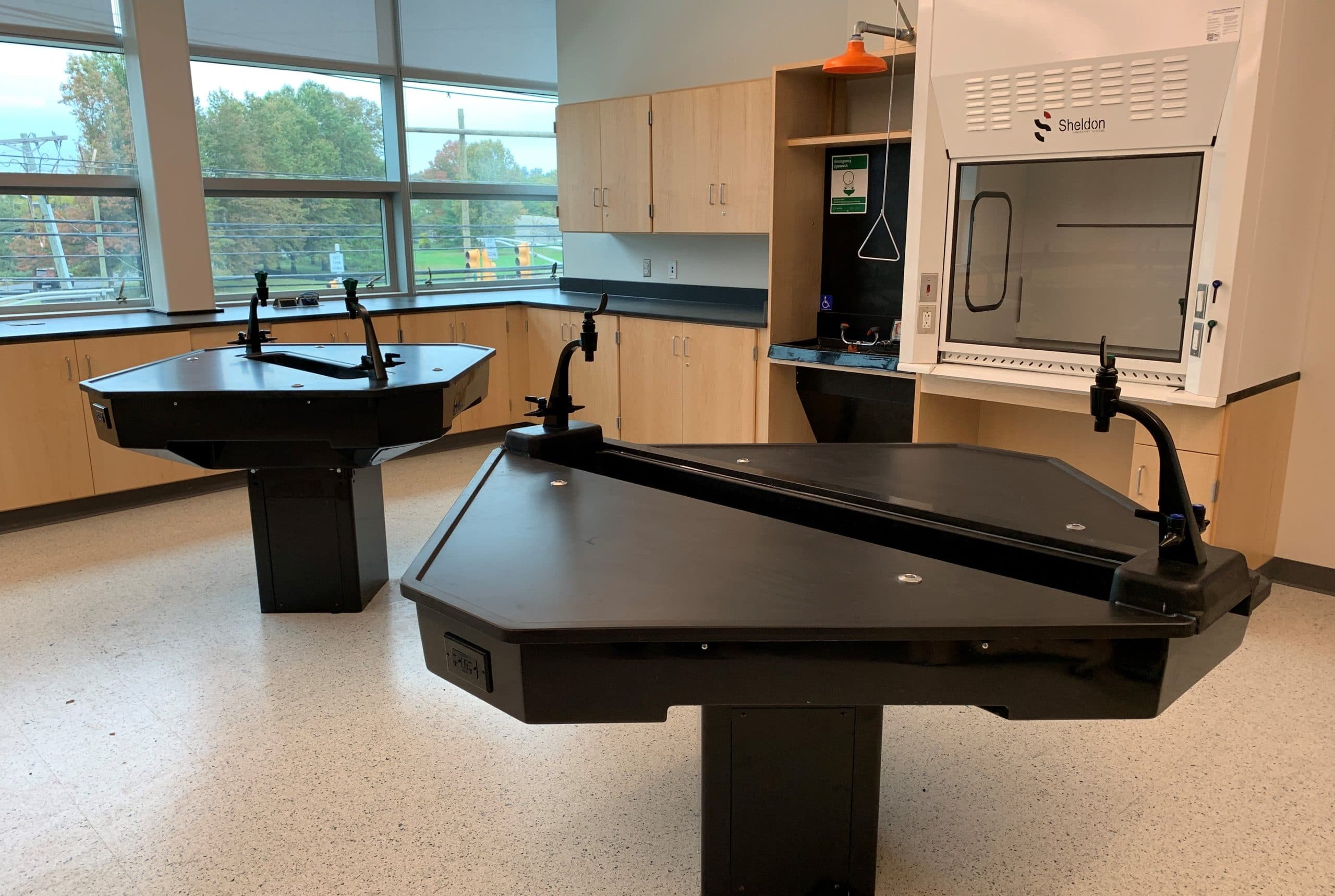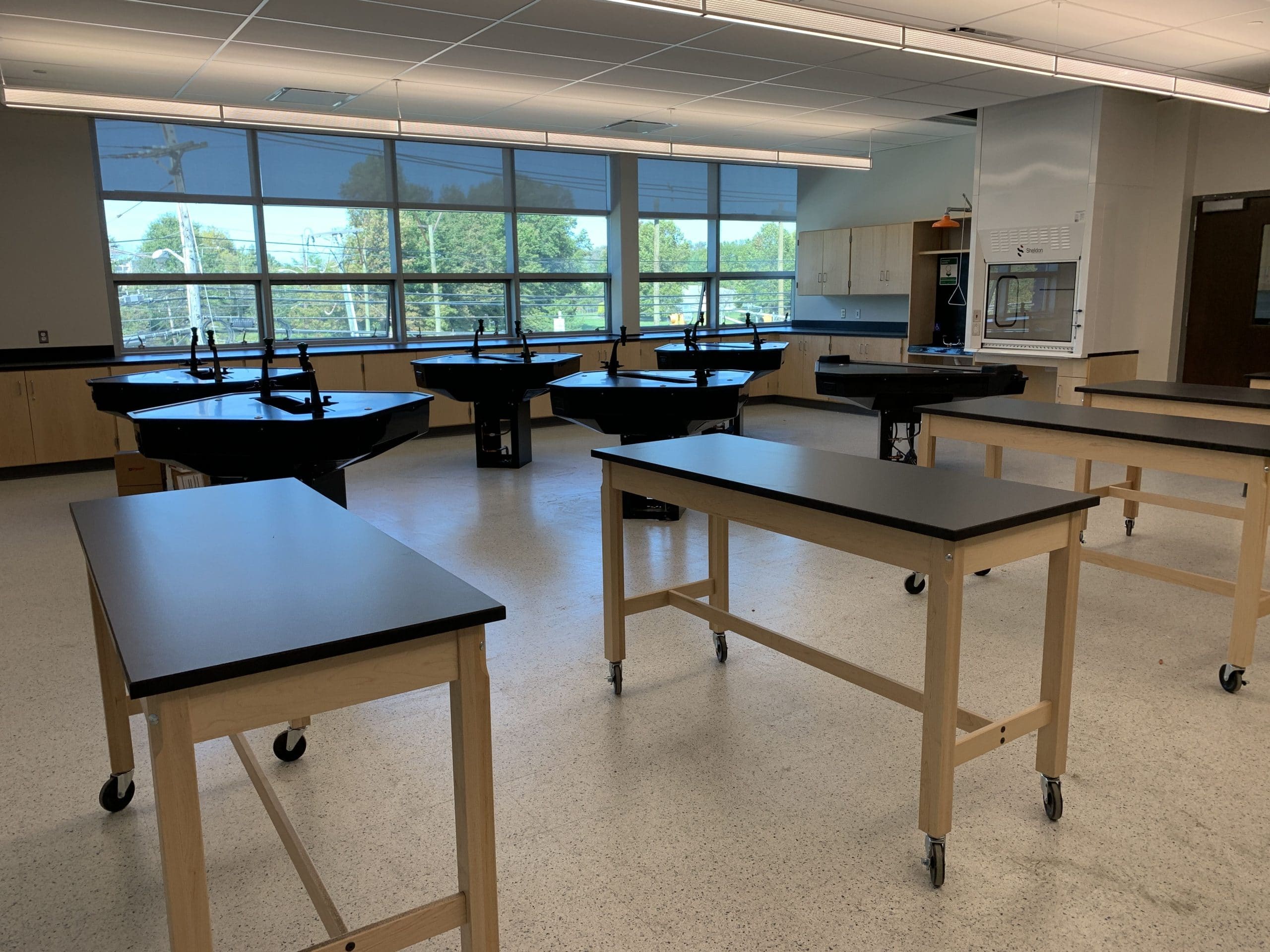 Use Longo for Your Next Lab Project
Do you have a laboratory renovation project coming up? If so, we are here to help! Reach out to us for questions or inquiries about your next lab project! Longo Labs is happy to offer you a free laboratory evaluation for your lab needs and answer all of your questions. All students deserve high quality lab equipment like the students at West Caldwell Tech now have, and your labs deserve the flexible designs that allow for the equipment to benefit your students. Let's get started!