Wood Casework versus Metal Casework | Longo

In this article, we are going to delve into the differences between wood and metal casework for science labs. For our readers that don't know, casework is just another word for cabinetry. Casework is important because it is usually 5-10% of a project's budget.
Advantages of Wood Casework
-Ideal for an educational environment that utilizes corrosive applications in moderation, such as chemistry, biology, or physics laboratories.
-Extremely durable and easy to repair- making it the product of choice among K-12 Educational Laboratories  with rambunctious students
-A multitude of stains for Oak and Maple wood species allows for a versatile finish selection
Advantages of Metal Casework
-Ideal for a Commercial or Research laboratory environment's that utilize harsh chemicals in abundance
-Long "Shelf-Life" or Product Lifespan, metal casework, for the most part, will last as long as your laboratory does
-Wide Variety of Color Finishes, Metal Casework is finished with powder coated paint that is available in about any color you can think of
-Minimal Maintenance: They may dent after years of service, but metal casework needs minimal to no maintenance after installation
-Chemical and Stain Resistant
Wood casework and metal casework both have their differing benefits. Depending on what type of lab you are working with, wood casework makes for more of an easy going and aesthetically pleasing atmosphere. Metal casework has a luxury aesthetic to it and usually fits into commercial environments, while wood casework is much better suited for educational environments ranging K through 12. Metal casework is also environmentally friendly being 100% recyclable.
Here are some photos of our wood and metal casework products: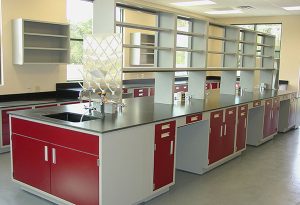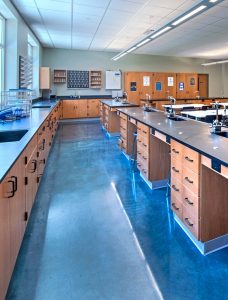 If you'd like to know more about our products, please click here. If you'd like to contact us for a quote or have any questions at all, please head to our contact page now!